A great place to communicate is at facebook.
You can find our talk board there I Love Maltipoos or you can add me as a friend
www.facebook.com
talk to us ! Make sure you add in invite if you are a poos4u customer or if you found us on one of these sites .
WELCOME TO OUR SITE
Christmas Stories ,Birthday Stories or just photos of a special occasion ...
We are looking also for personal websites about your pets to add here ....
WE ARE LOOKING FOR A FEW GOOD STORIES ABOUT ANIMALS TO PUT ON ..please get in touch at
kite@nehp.net
Please put maltipoo or pet story in subject line .We only open mail if we know where it is coming from and why. We look forward to this site growing ...
We would love to add your pet Stories HERE !
Rescue Stories too ...SO send them to us now !
Beyond Time Forum
Join us to talk about pets or /and if you are interested in the other side .
Cute Stories and Pictures of Maltipoos and other poo crosses coming soon . Here at Poos R cool we will have all types things for you to read and see .So join us as we improve our site and add .We welcome stories from you too and would love to have them on ..

Can I go Hunting with ya ?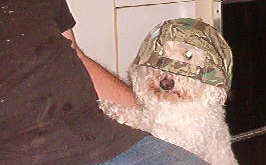 I got my hat on !
STORIES ABOUT MALTEPOOS,POODLES,...any dog or cat ,large or small .Send us your story and we will put on this site .
We update this site once a month .

Well,you found the right place !
ALSO ...We have a new site .
MEET THE MALTIPOO ..Book Series .. NOW READING
Check out our site and read all about Maltepoos and other crossbreeds and animals .
Fish ,cats and more story books online to read ..



So ,if you have a story about a baby kitten or dog or any other type pet .Email it to us and we will add it here .All stories are subject to approval .
Let us all share in how your pet makes your life !
Maltipoos ,Maltepoos,Maltapoos ..